The first-ever edition of the NBA G League International Challenge was introduced in 2018. As an All-Star selection of G League players under the name of Team USA, coached by Jeff Van Gundy, faced-off against Mexico's senior men's national team. Team USA picked up a 88-67 victory at the Verizon Up Arena, in Los Angeles.
The event replaced the NBA G League All-Star Game, which began in the 2006/07 season. In the same city that hosted the NBA-All Star Weekend. Traditional competitions were included also. Such as the dunk contest, 3-point contest, and various skills contests. As the launch International Challenge occurred, along with the disbandment of the All-Star Game, the G League introduced Midseason All-NBA G League teams for each conference.
2019 NBA G League International Challenge:
September 2019 saw the International Challenge expanded, as it was taken overseas in Montevideo, Uruguay. In addition, the NBA G League Elite team were joined by 5 other teams from around the world, in a tournament setting. The other teams; FC Bayern Munich (Germany), San Lorenzo (Argentina), Flamengo (Brazil), Capitanes de Ciudad de Mexico (Mexico), and the Uruguay Elite Team (Uruguay).
The G League Elite team consisted of the following players. The teams noted are those that they represented at the time of the tournament.
Paul Watson (Westchester Knicks), Dusty Hannahs (Memphis Hustle), Brandon Ashley (Texas Legends), Xavier Munford (Wisconsin Herd), Haywood Highsmith (Delaware Blue Coats), Abdul Gaddy (Oklahoma City Blue), Duane Notice (Raptors 905), B.J. Johnson (Lakeland Magic), Aaron Epps (Northern Arizona Suns), and Doral Moore (Memphis Hustle).
Results and Top Performers:
The NBA G League Elite team made it to the championship game, defeating Capitanes de Ciudad de Mexico (86-75). As well as the Uruguay Elite Team (103-63), in the process. Although, they did fall at the final hurdle to the reigning German champions, FC Bayern Munich (93-84). Who were led by former NBA player Greg Munroe, who dropped 25 points, 9 rebounds, and 4 assists in the game. 6,000 spectators watched the championship contest, at the Antel Arena, in Montevideo.
Paul Watson led the G League Elite team in scoring. With an average of 14.3 points, on 48.7% shooting. Watson had a 43.8% conversion rate from 3-point land too. Chad Brown topped the team in rebounds, with 7.3 per game. While Abdul Gaddy sat top in assists per game, with 5.
The Uruguay Elite Team beat Flamengo 89-81 to claim 3rd place at the tournament.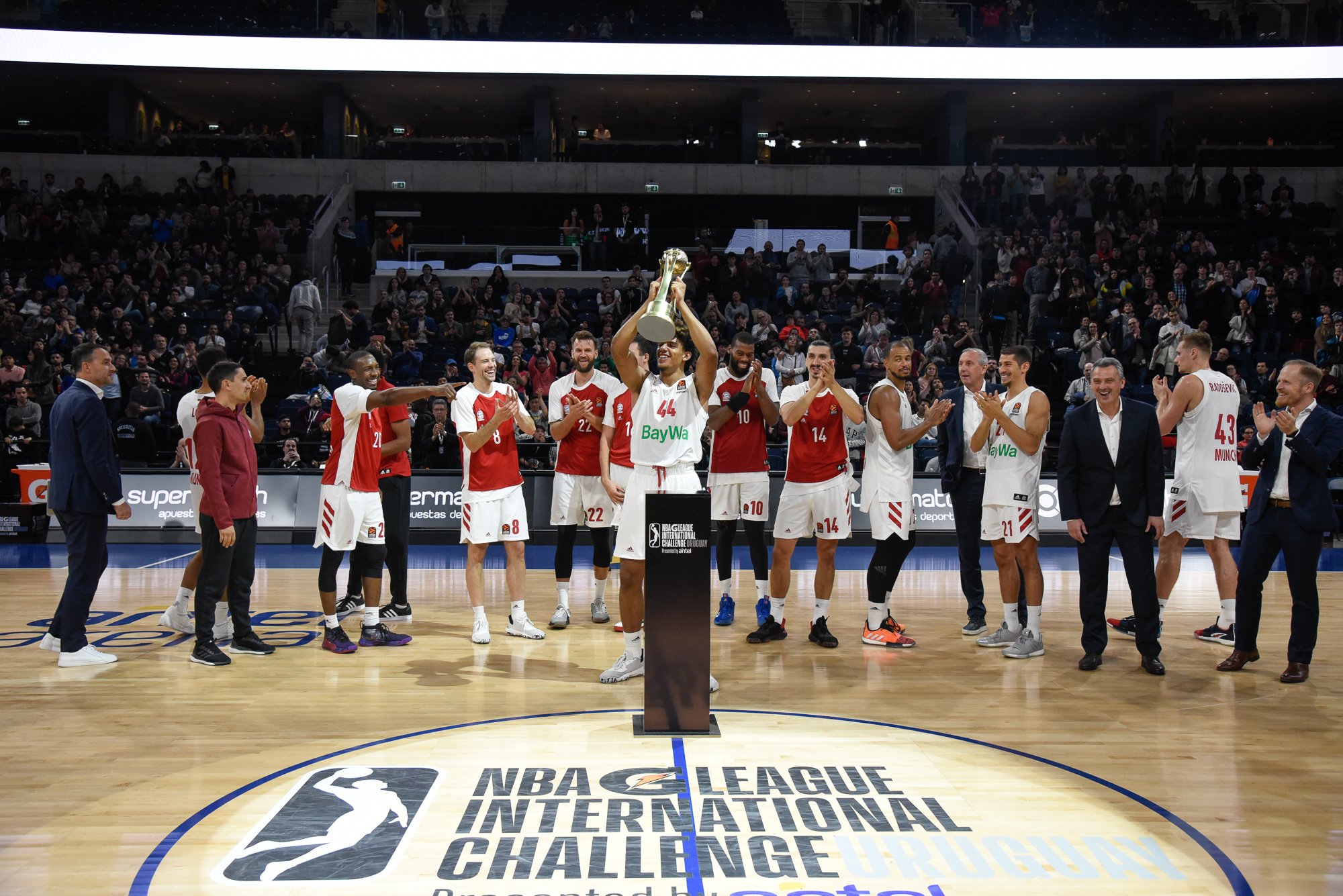 The NBA G League International Challenge is played under FIBA rules. Which are different to NBA rules, as court markings and dimensions slightly differ.
No details have been released at present time regarding the date and location of the 2020 NBA G League International Challenge.
---
You can follow Matt on Twitter here.