The G League bubble in Disney World, Orlando is in its mid-way(ish) stage. With teams having played 8-9 contests, fans have been getting a sense of who's the high performers are and which teams are destined for the foot of the standings.
17 G League teams are currently participating in the 15-game bubble season, along with G League Ignite. The regular season will run until March 6, before a single-elimination playoff will commence from March 8. The Ignite team, who are a development team for elite prospects, are playoff-eligible. The 2021 G League Finals will take place on March 11.
Do you want to know who's currently knocking on the door for the G League Championship? Below we take a look at the high performers, the top-5 teams in the Orlando bubble currently.
1. Erie BayHawks (8-1)
The 8-1 Erie BayHawks currently sit top of the G League standings and are riding a 6-game win streak. Boasting four players with 15+ points per game, all eyes have been glued to the offensive firepower of the team. Jordan Bell (17.6), Jalen Adams (16.9), Jarrod Uthoff (16.0), and Naji Marshall (15.2) are some of Erie's standouts.
Attention has been drawn to their offensive performances, where the BayHawks hold the top spot in Field Goal Percentage (49.5%). Additionally, the team sits second in assists per game, with 6.2. Although, the defensive production of Erie is equally as impressive.
They sit second in blocks per game (6.2), as they also hold the second-best Defensive Rating (104.9) in the bubble. Production on this side of the ball has been led by Bell and Uthoff, as well as Will Magnay and Omari Spellman.
Erie have impressive wins against the Austin Spurs and G League Ignite to their name. The former, they defeated a full-strength Austin side with Tre Jones and Luka Samanic, who have since been called up to San Antonio in the NBA. The latter they beat by a 40-point swing (127-87), for one of the most dominant bubble performances yet. Their only defeat came at the hands of the then-undefeated Delaware Blue Coats, in a close 115-110 contest.
2. Delaware Blue Coats (7-1)
Delaware started the season on a 7-game win streak, with their only loss coming against the high-flying Erie BayHawks last time out. The Blue Coats hold an impressive roster, with two-way players Paul Reed and Rayjon Tucker, propelling the team to a 120.8 Offensive Rating.
Other top performers include the likes of Justin Robinson, Jared Brownridge, Jordan Bone, Ivan Rabb, and Jemerrio Jones, among others. The team sit 5th league-wide in assists per game (26.3) and 3rd in steals per contest (11). When looking at 3-point percentage, the Blue Coats occupy top spot, with a 37.1% conversion rate. Robinson leads Delaware from beyond the arc, shooting 44.2%, with the team possessing five players converting at 39+ percent from range (1+ 3PA).
Standout victories include against the Santa Cruz Warriors on February 12 (103-92). This was followed by convincing wins against the Greensboro Swarm (127-98) and Austin Spurs (122-107). As mentioned prior, the Delaware Blue Coats' only loss came against the Erie BayHawks, who are arguably the best team in the league right now.
3. Oklahoma City Blue (7-1)
The Oklahoma City Blue could have easily occupied second in these power rankings. However, it's the strength of the schedule that slips them down to third. On their journey to a 7-1 record, the Blue have defeated mainly sub .500 teams. But on the other hand, Oklahoma City are currently riding a league-best 6-game win streak.
Playing with the quickest pace in the G League bubble (102.9), the Blue score the second-most points per contest (120.3). They sit first in rebounds, assists, and blocks per game, with 59.5, 28.6, and 6.3, respectively. 7-foot-2 center Moses Brown is the star of the team, averaging 20.3 points, 14.5 rebounds, and 2.6 blocks.
The Oklahoma City Blue's only loss came in the second game of the season against G League Ignite. For the remainder of the regular season, the Blue can prove if they're for real, with contests against the Austin Spurs, Delaware Blue Coats, Erie BayHawks, and Santa Cruz Warriors upcoming.
4. Santa Cruz Warriors (6-3)
After an up-and-down start to the season, which included back-to-back defeats to G League Ignite and the Delaware Blue Coats, the Santa Cruz Warriors have returned to form a 5-game win streak. One of the wins included an impressive, franchise-best, 39-point victory against the Agua Caliente Clippers (129-90). Santa Cruz are on a charge right now, and have been flying up the rankings.
Just like their parent team, Golden State, Santa Cruz are heavily reliant on production from 3-point land. They sit first in the G League in 3-pointers made (126), with a 36.2% conversion rate. Additionally, Kris Weems' side is top in free-throw percentage, where they shoot 85.5%. From the field, the Warriors shoot 47.1%, which is the third-best in the league.
NBA assignment players Jordan Poole and Nico Mannion have been impressing in the bubble, scoring 23.1 points and 18.3 points per game, respectively. French wing Axel Toupane has been productive, adding an average of 17.6 points, 8.2 rebounds, 3.6 assists, and steals.
Although, all eyes have been on veteran Jeremy Lin, who holds averages of 19.6 points, 2.8 rebounds, 7.2 assists, and 1.6 steals, in 5 games. From range, Lin has been shooting lights out, at 48.4% on 6.2 attempts per contest.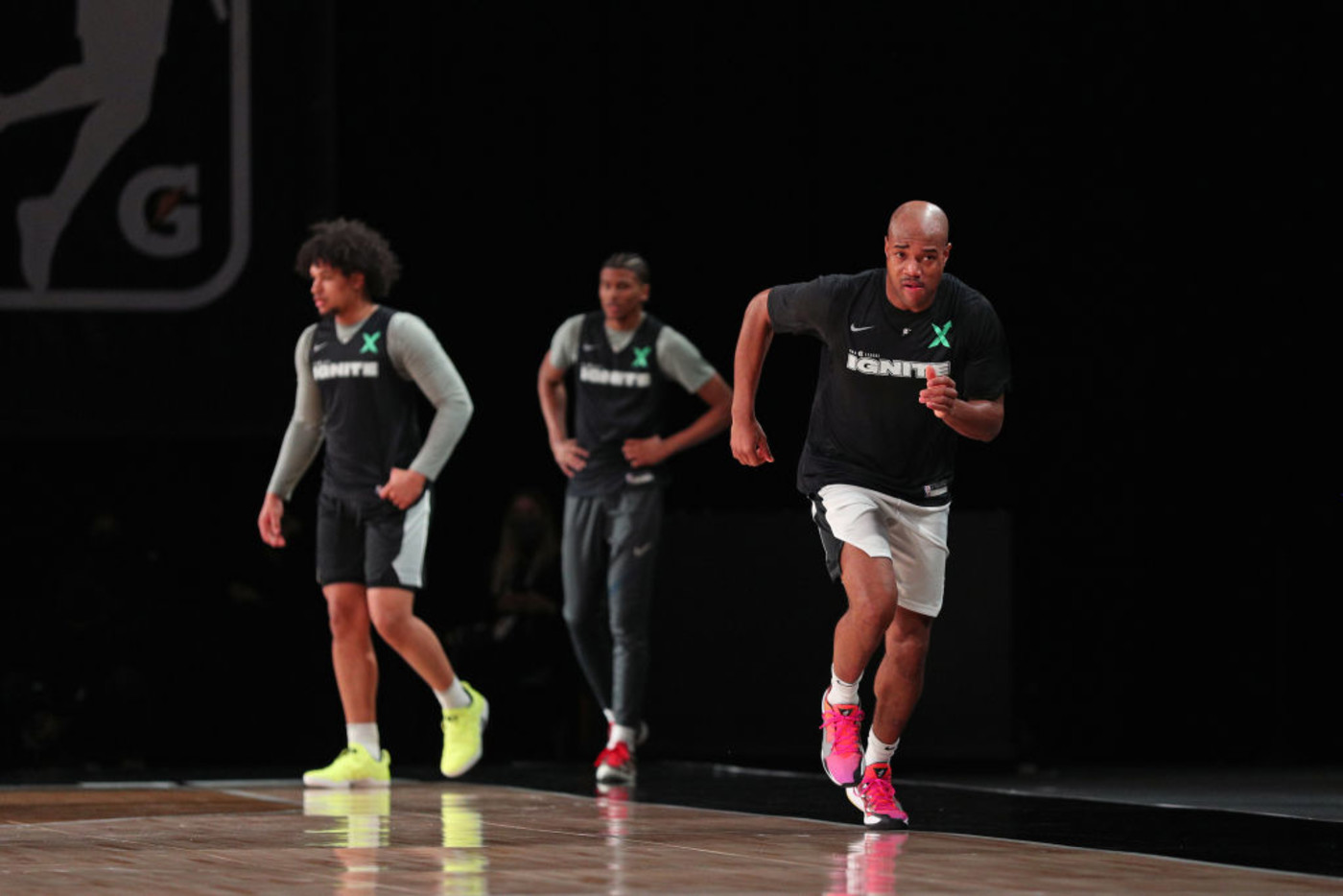 5. G League Ignite (5-3)
After starting the season unbeaten, with a 4-0 record, G League Ignite stumbled with back-to-back losses against the Erie BayHawks and Westchester Knicks. After bouncing back against the Greensboro Swarm, Ignite then lost to the Long Island Nets. A bit of inconsistency is starting to creep in, as it appears that players are feeling fatigued. But it's difficult to put these elite prospects and veterans down.
An Offensive Rating of 105.5 places Brian Shaw's men in 15th place league-wide. Jalen Green leads the team with 17.6 points per game, closely followed by Jonathan Kuminga with 16.6. Donta Hall averages a near double-double with 9.4 points and 9 rebounds, with veterans Jarrett Jack, Amir Johnson, and Brandon Ashley making sizable contributions. Isaiah Todd and Daishen Nix sit alongside Green and Kuminga as prospects to watch ahead of the 2021 NBA Draft.
Even though the expectation was for this team to set alight offensively, it's their defensive efforts that have caught the eye. Their Defensive Rating of 108.1 places them 5th in the G League bubble. Future highly-anticipated matchups versus the San Antonio Spurs and Delaware Blue Coats are on the cards.
Upcoming games against the Memphis Hustle, Salt Lake City Stars, Canton Charge, Agua Caliente Clippers, and Rio Grande Valley Vipers, who are all under .500, give G League Ignite an opportunity to rack up the wins moving forward.
---
Stay up-to-date with the latest from the NBA G League, as well as with the development of future elite prospects from around the world, by following Call-Ups on all social media channels.